Software Development Services
Regardless of the current technologies you use or the complexity (or simplicity) of your project, Sofmen will provide you with all the software and application development services you need.
From creating a one-of-a-kind custom mobile application to business applications that help you save money by simplifying your business process, we can build what you need.
Sofmen's capabilities are limitless.  Because we employ an array of talented programmers and engineers we have the expertise you need for whatever you need to deploy.  We can takeover an existing project, build from scratch or integrate multiple technologies to architect a working solution for your needs.







Business Process Automation
Efficiency is the key to saving money in your day-to-day operation. A custom business application can help you streamline your work flow; saving thousands of dollars over time.
We can build a custom application for any of your needs and can combine multiple needs into a single user interface.
Office Automation
Retail & Point of Sale Software
E-Commerce
Scanning and Tracking
Resource Scheduling
Customer Relations Management
Learning Management Systems
Enterprise Resource Planning
Warehousing and Inventory Control
Business Evaluation Tools
Whether you need a mobile component to your business process or if you have an idea for an app, Sofmen will create it for you quickly.
Sofmen has one of the fastest rates of taking a mobile app from start-of-project to on-the-market in the industry.   Time is money.  No one understands that better than us.  We will get your iOS app for iPhones and iPads in the Apple Store, or your Android application on Google Play as quickly as possible.
Apple iOS for iPhone & iPad
Android – Google Play
Cross-Platform
Progressive Web Apps
User Interface & User Experience Design Experts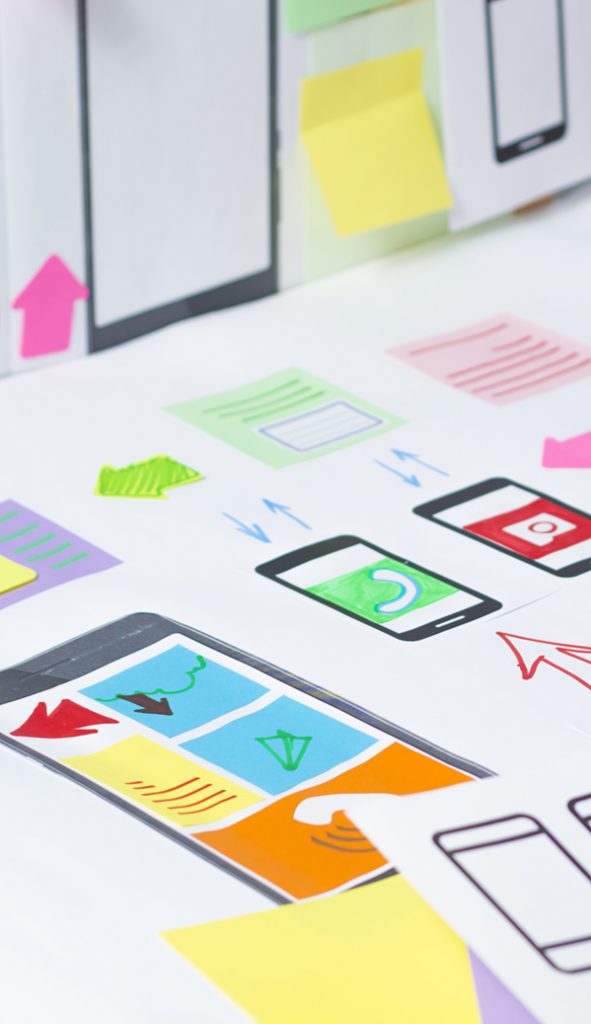 Software and mobile applications require more than just programming.  An intuitive and easy to use interface is essential for usability. 
The user interface (UI) and the overall user experience (UX) are two very important aspects of software applications and websites that sometimes go un-thought-of.  Creating an easy-to-use interface and giving the user what they want are crucial parts of the software and application development process.
If your users don't like to use your software or mobile app because it is not intuitive, they simply won't use it. If they are not getting out of it what they expect, they'll turn elsewhere.
This goes for your employees that are using your production software as well as your customers and clients.  Therefore, it is crucial that thought, time and effort gets put into the planning and design phases of building an application or website.
Sofmen employs software UI/UX experts who are trained and dedicated to designing user interfaces that work well and are easy to use. The interface makes it easy for users to find what they need and navigate your website, mobile application or online software applications.
Additionally,  your customers' overall experience can make or break the success of your application. When designing your software we take everything into consideration:
Visually Appealing Design
Layout and Placement
Engaging Interactivity
Flow
Controls
Ease of Use
Poor code can leave your software vulnerable to malicious hacks and security breaches. Sofmen will give you the peace of mind you need by providing a code review to ensure you application has been built properly.  We will either fix any issues that we find or work with your developer to make any needed corrections.
If your software is broken, we can get up to speed fast to fix it. 
Custom API Development & Integrations
Sofmen's developers provide robust API development and third-party API integration services to extend the functionality of your current application with new and existing third-party systems & devices.
Custom API Integrations
We can build custom API integrations to connect your application with third-party APIs such as Google Maps, Twilio, or any available API that enables your software platform to seamlessly interface with other apps, devices, and business systems.
Custom API Implementations
We implement custom internal and external API development solutions allowing your platform to connect with other platforms, applications, or services across the internet.
Security is a matter Sofmen takes very seriously. Attackers can potentially use many different paths through your application to do harm to your business or organization. The costs of a breach can be astronomical; not just the monetary cost, but also the harm to your company's reputation and loss of trust of your users.
Sofmen subscribes to the tools and best practices outlined by the non-profit organization Open Web Application Security Project (OWASP).